2019 Volkswagen Golf for Sale in Oklahoma City, OK
Allen Samuels Volkswagen is the Dealership to Get a 2019 Volkswagen Golf

How much does a new 2019 VW Golf cost?
Starting Price Is Only:
$21,845!*

The 2019 Volkswagen Golf is by far on of the most versatile models in the history of Volkswagen. The golf not only has several trim lines that it comes in, but also comes in six different variations! Those variations are the traditional Golf, SportWagen, Alltrack, GTI, R, and e-Golf. The SportWagen and the Alltrack are "wagon" the designs with extended rear hatches for added utility and functionality. The others are the traditional Golf design you have come to know as seen above. The great thing about this car is no matter what your needs are, chances are the Golf can fulfill them! From being a sportly performance car, to an around town commuter, and even to the SUV replacement to carry lots of cargo on a regular basis. Golf has it all.
The 2019 VW Golf has one fantastic interior that was designed to explode your mind! As you can see above the inside of this vehicle is actually quite roomy, not what one would expect from looking at it from the outside. From front to back all seats are as comfortable as the rest. This is so no matter where you are sitting, from driver to passenger to the rear occupant, you have maximum comfort. There is plenty of room for your feet and legs, shoulders and side-space, and even taller people that are 6'+ have enough headroom. All of this is done with cutting edge space-saving technology to fit more of what you want in less room than most ever thought possible to fit it! That is it…mind blown!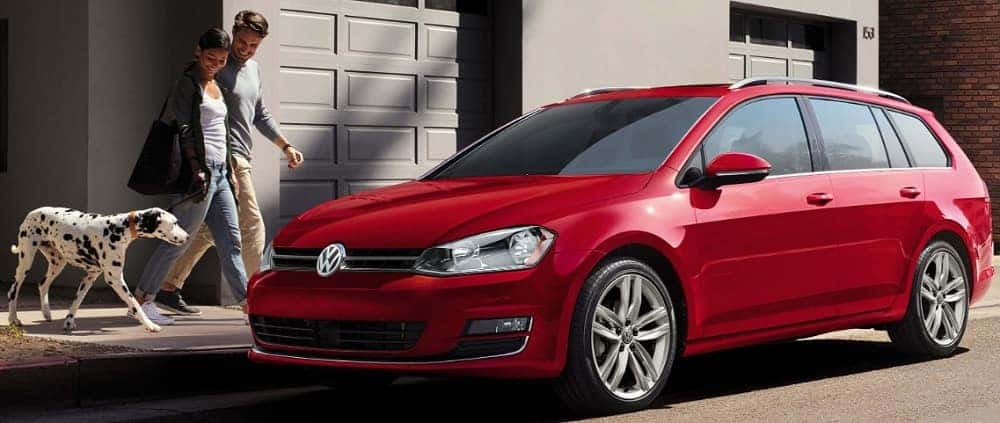 The 2019 Volkswagen Golf's exterior is just as impressive as its inside. The first picture on this page is the "normal" design and the image just above is the wagon version. You can clearly see the difference between the two bodies and you can now also see how the wagon would be a more utility-driven design while maintaining a pretty cool look. Golf has always been known as a sporty vehicle and both versions exude just that. Drive in style in all trims and variations. Sporty wheels, powerful lighting elements, great lines, and exciting silhouettes make this car one of the best in the market today.
The 2019 Volkswagen Golf GTI is also known as "the hot hatch". This is a much sought after car by "tuners" that love to take their cars to the max. With a 2.0L Turbocharged engine, you have the power to conquer the roads. Add to that a sports suspension, progressive power steering, drive mode selector, DCC adaptive chassis control, paddle shifter, limited-slip differential, and performance brakes. All those things together combined make this version of the Golf one of the most in-demand versions because you not only get all that, but you get all that starting at a very aggressive price!
This year, the 2019 Volkswagen VW Golf comes in a total of 14 different trim lines/model configurations to choose from. Priced from lowest to highest the lines are in the graphic above from all versions of the Golf. We know this might be a bit daunting to look at, but rest assured, we are here to help and make it easy! Our information providing process is unparalleled in the industry and we are here to help you get all the information you are seeking and want so that you can make an educated decision on the vehicle that is perfect for you. Help us help you by coming in and seeing what makes Allen Samuels VW of Edmond dealership on the outskirts of Oklahoma City different than any other dealership…we care about you! Come by — let's be friends.
*Prices and details may change at any moment without notice. Prices exclude destination, taxes, title, other options, and dealer charges. Dealer sets actual price. This page is for information purposes only and dealer is not responsible for any inaccuracies. See dealer for most current, up-to-date information and details.