2019 Volkswagen Jetta for Sale in Oklahoma City, OK
Allen Samuels VW is the Dealership to Get a New 2019 Volkswagen Jetta

How much does a new 2019 VW Jetta cost?
Starting Price Is Only:
$18,745!*

The 2019 Volkswagen VW Jetta is one of the industry's leading cars in its class! This car has achieved countless awards and accolades over time, a loyal following due to its high-quality build, and continues to be a powerhouse ranker time and again each and every year in the auto industry. From up to down markets, the Jetta always holds a strong position at the top of the lists and will remain a favorite for a long time to come. One of the things that make this car so incredibly great (outside of its high-quality standards) is its affordable starting price under $20,000. for less than 20k, VW customers have been able to buy this car for a long time and get industry-leading style, impressive powertrain efficiency, a great and fun ride, and above all a reliable car that will withstand the testament of time. Continue down this page to learn more.
The 2019 Volkswagen Jetta's inside cabin is almost something out of a fairy tale. The inside is not too big, not too small, but "just right". There is a decent amount of room in the floorboards for legroom in both front and back seats. And the roof is high enough that even someone over 6 foot tall can sit inside comfortably…even in the back. Like we said, "just right". The seats use industry-leading comfort technology to give you a comfortable atmosphere while at the same time firm enough to keep you hugged in your seat on any tight maneuvering you may want to do in this zippy car.


If looks could kill, this car would be America's most wanted! The 2019 Volkswagen Jetta for sale in OKC has head-whipping looks that people can't keep their eyes off of. Call this the "double-take king" because just one look isn't enough to get all this car's style processed at once. Sporty wheel designs, sharp lines, sleek curves, aerodynamic contours, and an ideal silhouette. This car definitely talks the talk and says it proud…I am a Volkswagen! The heritage grille starts the front end off with the VW logo perfectly placed in the center to let all know, VW coming through. Advanced technology lights increase visibility while maintaining the sleek look, and intelligent sculpting design encompasses the car to a world-class fit and finish. There are great looking cars…and then there is the Jetta!
2019 Volkswagen VW Jetta for sale in OKC Norman Edmond OK has all the technological advances you could ever want in a car! In today's technology-driven world, it is crazy not to! you can see from the images above that this car has a cool, futuristic look and feel to it inside. Ambient lighting, full-color touchscreen displays, advanced options, and even the gauge is a full screen that you can customize to your heart's desire including the full navigation map! Of course, it has Bluetooth streaming technology and every other car tech that you have come to love, but it also has other available advanced tech features you are sure to love! to list them all out here would take over the entire page, but contact us today and we will be happy to go over all the items that you are interested in and get all your questions answered as well as schedule a visit for you to come in (obligation free) and check out these cool features first hand!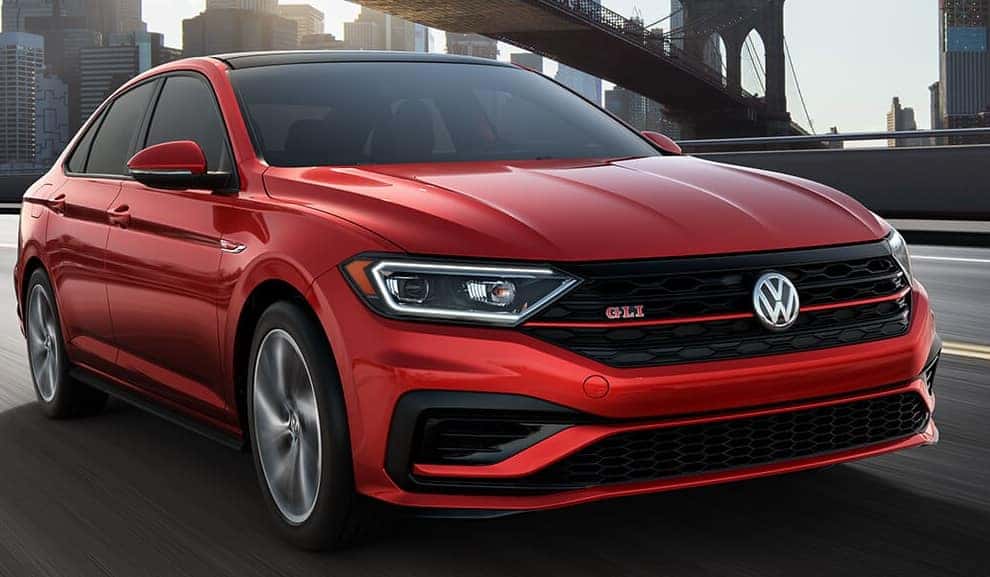 2019 Volkswagen VW Jetta GLI for sale in OKC Norman Edmond OK is the newest / latest version of this magnificent car!  The GLI brings a new infusion of adrenaline into your normal everyday drive to make it extraordinary. Under the hood of this model is a turbocharged 228 horsepower beast ready to slam your head into the back of your seat and dominate the road ahead of you. When you are ready to calm the beast down, you have performance brakes embedded within the feet of this animal to bring it to a quick and steady halt safely and surely. Advanced transmission technology matched with a high-end performance monitor to ensure you get every bit of your powertrain you desire with multiple drive modes available at your fingertip.
This year, the 2019 Volkswagen VW Jetta for sale in OKC Norman Edmond OK has five different trim lines to pick from: S, SE, R-Line, SEL, and SEL Premium. Starting with the first model 'S' which is the one that starts at under 20K, the prices and equipment stair step themselves up the line all the way to the SEL Premium that has it all. You can see the graphic above for the major difference in the car's trim lines to help decide which one is right for you. Once you have landed on the perfect trim line for you, we will be happy to show you exactly how you can take it home today…and you are obligation-free the entire time until you decide to buy! Our information providing process is unparalleled in the industry and we are here to help you get all the information you are seeking and want so that you can make an educated decision on the vehicle that is perfect for you. Help us help you by coming in and seeing what makes Allen Samuels VW of Edmond dealership on the outskirts of Oklahoma City different than any other dealership…we care about you! Come by — let's be friends.
*Prices and details may change at any moment without notice. Prices exclude destination, taxes, title, other options, and dealer charges. Dealer sets actual price. This page is for information purposes only and dealer is not responsible for any inaccuracies. See dealer for most current, up-to-date information and details.