2019 Volkswagen Passat for Sale in Oklahoma City, OK
2019 VW Passat OKC Norman Edmond OK Dealer.
Allen Samuels VW of Edmond is the Dealership to get a 2019 Volkswagen Passat for sale.

How much does a new 2019 VW Passat cost?
Starting Price Is Only:
$25,295!*

The 2019 Volkswagen VW Passat for sale in OKC Norman Edmond OK is one of the best vehicle on the road today. It exemplifies what it means to "have it all"! It has a great starting price, it has great looks, it has a great interior, it has great technology, and it has great trim levels. All that greatness in one vehicle don't make it great…it makes it AWESOME! If you are in the Oklahoma city area or any of the surrounding cities, then you owe it to yourself to come down to Allen Samuels VW of Edmond Dealership and take a look at one. You will be impressed by how it looks in person, how it feels behind the wheel, and you will even be STUNNED by how affordable it is! But only Allen Samuels has the best deals in all of Oklahoma! So if you are thinking of a new car, this is one you definitely have to check out before you make a decision, you will be happy you did!
2019 Volkswagen VW Passat for sale in OKC Norman Edmond OK has am incredibly comfortable interior.  Wide seats, plenty of room in the back, deep foot wells, tall head line, and tons of room from side-to-side. No matter your physical stature, you will easily fit comfortable within this vehicle and enjoy your ride in relative luxurious style. If you are the front passenger, you will be happy to ride along too! Lean your seat back, spread your legs out and cross them, rest your head against the smooth head rest and get ready for one of the most comfortable rides of any mid-sized sedan in the industry! For those passengers in the back, don't you fret either. Unlike a lot of the mid-sized sedans in the market, this car does not compromise your room to make it fit into the class. you have plenty of foot room, head room, shoulder/hip room, and the seats are still impressively comfortable and pleasant. So no matter where you rest your rear in this vehicle, from the back to the front, you are going to love this car!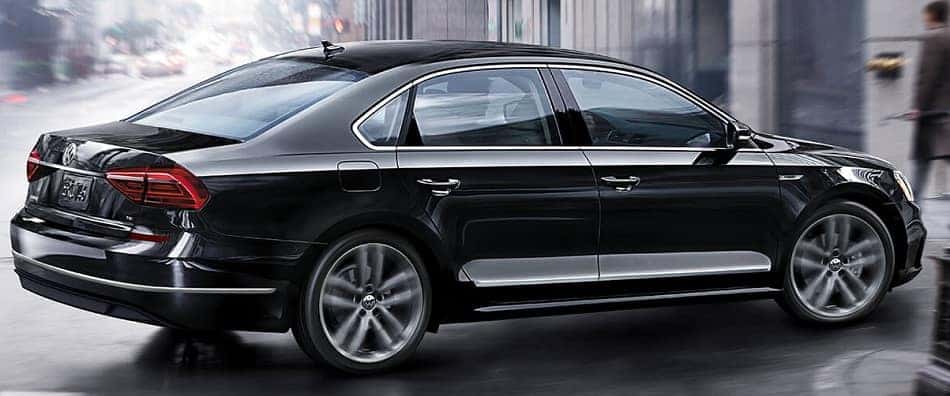 2019 Volkswagen VW Passat for sale in OKC Norman Edmond OK has a stunning exterior that is sure to turn heads and force onlookers to ask, "what sexy car is that?" That car, is the Passat! With stylish wheel designed to complement the caressing body, this sedan looks good at any direction or angle. Every centimeter of this car was carefully carved and sculpted to ensure that it is nothing less than perfect 360 degrees around. Not even the lights were left untouched and enhanced to give you the very best visibility while maintaining exemplary style. Smooth curves wrap this car in elegance, careful contours are embedded to bring out the cars beauty. You have asked for car that has style matched with a car that has luxury, and Passat delivers both!
When it comes to technology, 2019 Volkswagen VW Passat for sale in OKC Norman Edmond OK has what you desire. With all the popular technology features in the industry available on this car, you will never be left wanting. Bluetooth streaming for phone and audio, full-color touch-screen display, steering wheel mounted controls, several popular vehicle apps, Apple CarPlay and Android Auto, satellite radio, Fender Premium Audio system, Blind spot monitoring, cross-path detection, enhanced navigation with traffic updates, lane assist, and the list goes on and on for available technology in this car… you want it, Passat got it!
This year, the 2019 Volkswagen VW Passat for sale in OKC Norman Edmond OK comes in just 2 trim lines. A well equipped Wolfsburg trim line and a VERY-well equipped SE R-Line.  Both have tons of equipment, and neither is a sacrifice of options. you cant pick incorrectly here, it really just comes down to your own personal preference. We would like to invite you down for a no-hassle, zero-obligation visit and see one for yourself. Get behind the wheel of one or both trim line to help determine which is best for you and really experience the car first hand. Once you have landed on the perfect trim line for you, we will be happy to show you exactly how you can take it home today…and you are obligation free the entire time until you decide to buy! Our information providing process is unparalleled in the industry and we are here to help you get all the information you are seeking and want so that you can make an educated decision on the vehicle that is perfect for you. Help us help you by coming in and seeing what makes Allen Samuels VW of Edmond dealership on the outskirts of Oklahoma City different than any other dealership…we care about you! Come by, lets be friends.
*Prices and details may change at any moment without notice. Prices exclude destination, taxes, title, other options, and dealer charges. Dealer sets actual price. This page is for information purposes only and dealer is not responsible for any inaccuracies. See dealer for most current, up-to-date information and details.