2019 Volkswagen Tiguan for Sale in Oklahoma City, OK
Allen Samuels VW is the Dealership to Get a New 2019 Volkswagen Tiguan

How much does a new 2019 VW Tiguan cost?
Starting Price Is Only:
$24,295!*

With the 2019 Volkswagen VW Tiguan for sale in OKC Norman Edmond OK, there are no rules when it comes to automotive design. This is the philosophy that has led to countless examples of innovation for them over their many decades in the auto industry, and this great SUV exemplifies that creative effort. With its powerful turbocharged engine, available 4MOTION all-wheel drive and incredible sport suspension, this SUV is unbelievably fun to drive in addition to being practical and stylish. Its clean lines and sleek exterior are telling of the Volkswagen pedigree, as is the impressively quality-laden, expansive interior that comes with plenty of room for you, your family, your friends, and your cargo all at the same time. So settle in, buckle up, and prepare for surprises, because when it comes to this vehicle, you are going to see plenty of them.
2019 Volkswagen VW Tiguan for sale in OKC Norman Edmond OK has incredible versatility, craftsmanship, and amazing luxury that await you inside.  Standard features such as a touchscreen Interface sound system with HD Radio, Climatronic climate control with pollen filter technologies, a leather-wrapped multifunction steering wheel, rearview camera, and Bluetooth audio streaming will make you swear that you must have pulled one over on your salesman – but that is just how VW continues to take care of you. Quality materials cover every inch of the interior, that much is evident the moment you close the door and hear not even so much as a rattle. This is a small detail, to be sure, but the solid thwack sound when you close the door is subtly telling of the high-quality craftsmanship that went into the construction of this vehicle. Just as much care went into ensuring this compact SUV does not feel compact or cramped inside. 40/20/40 folding, sliding rear seats ensure that an incredible amount of cargo can be moved in this vehicle – perfect for grabbing supplies at your local hardware store, stocking up for a camping trip with friends, or running gear for the little league team your kids play for. VW also provides options that send the luxurious interior right over the top – quite literally, in the case of the stellar panoramic sunroof that turns most of the roof into a huge functional sunroof. The sunshine never felt so good.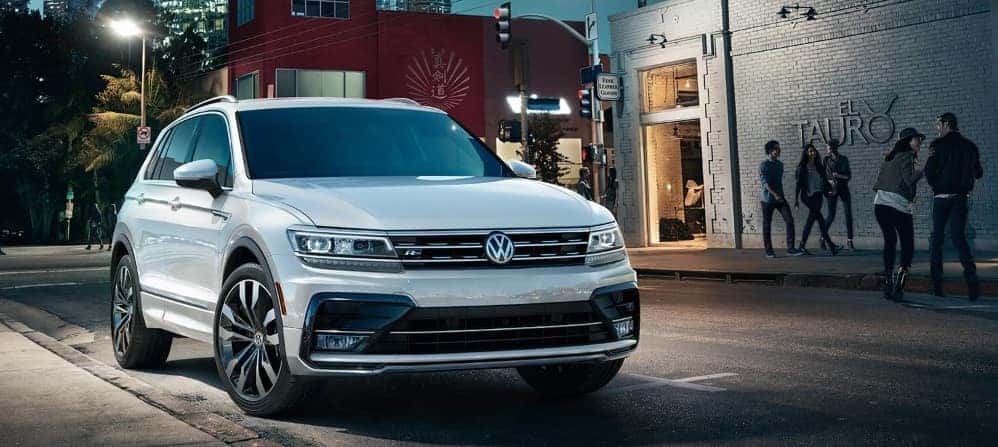 2019 Volkswagen VW Tiguan for sale in OKC Norman Edmond OK says work is over for the weekend and it is time to have a little fun. When you are home and go out to your garage, you won't be able to stop yourself from smiling with pride and joy. With its sweeping headlamps wrapping smartly around the corners, its windshield that leans aerodynamically back, and its tall, aggressive stance, you know that you are looking good in the neighborhood. Resting on aluminum alloy wheels that range in size from 16″ to 19″, this is an SUV that is not only slick in the looks department, it is ready to handle rough terrain, and prepped for your favorite outdoor adventures with standard roof rails or available base carrier bars and roof box carrier attachment – and with its impressive towing capacity it is even prepared to do some heavy-duty hauling. There is no need to worry about visibility with available Bi-Xenon high-intensity headlights and LED daytime running lights, or the standard halogen headlights with clear, chip-resistant polycarbonate lenses.
2019 Volkswagen VW Tiguan for sale in OKC Norman Edmond OK is super safe and secure, as with all vehicles in the Volkswagen family. The commitment put forward by VW for your safety is more fierce than most in the industry.  You pay no extra premium for that incredible amount of safety, as every single trim line and variant on this vehicle comes with the same amazing industry-leading safety and security features to keep you safe. That means theft protection like standard alarm and vehicle immobilizer systems standard. That also means passive safety systems such as adaptive airbags (covering front, side, and rear), Intelligent Crash Response tech that disables the fuel pump, activates the hazards, and unlocks the doors in the event of a collision, an advanced Electronic Stability Control (ESC), Anti-Slip Regulation, Electronic Differential Lock, and even Engine Braking Assist; brake disc drying and Tire Pressure Monitoring System. In the event of a rollover, be at ease with the knowledge that you are sitting under a roof that has earned the Insurance Institute for Highway Safety Best-in-class roof strength rating. There is no stronger commitment to your personal safety and that of those you love and hold dear in the automotive industry.
As you can see, anyone on the market for a compact sport SUV would do well to look at the many options Volkswagen has laid down with the 2019 Volkswagen VW Tiguan for sale in OKC Norman Edmond OK. Each of the trim lines above come standard with loads of equipment, as well as a plethora of available options and packages to make sure that you can create the perfect SUV to fit your style. So contact us today to schedule a no-obligation test drive, hassle-free visit and see what all buzz about on this incredible, must-see SUV. We have no doubt that you will love it, and we look forward to welcoming you to our family.
*Prices and details may change at any moment without notice. Prices exclude destination, taxes, title, other options, and dealer charges. Dealer sets actual price. This page is for information purposes only and dealer is not responsible for any inaccuracies. See dealer for most current, up-to-date information and details.